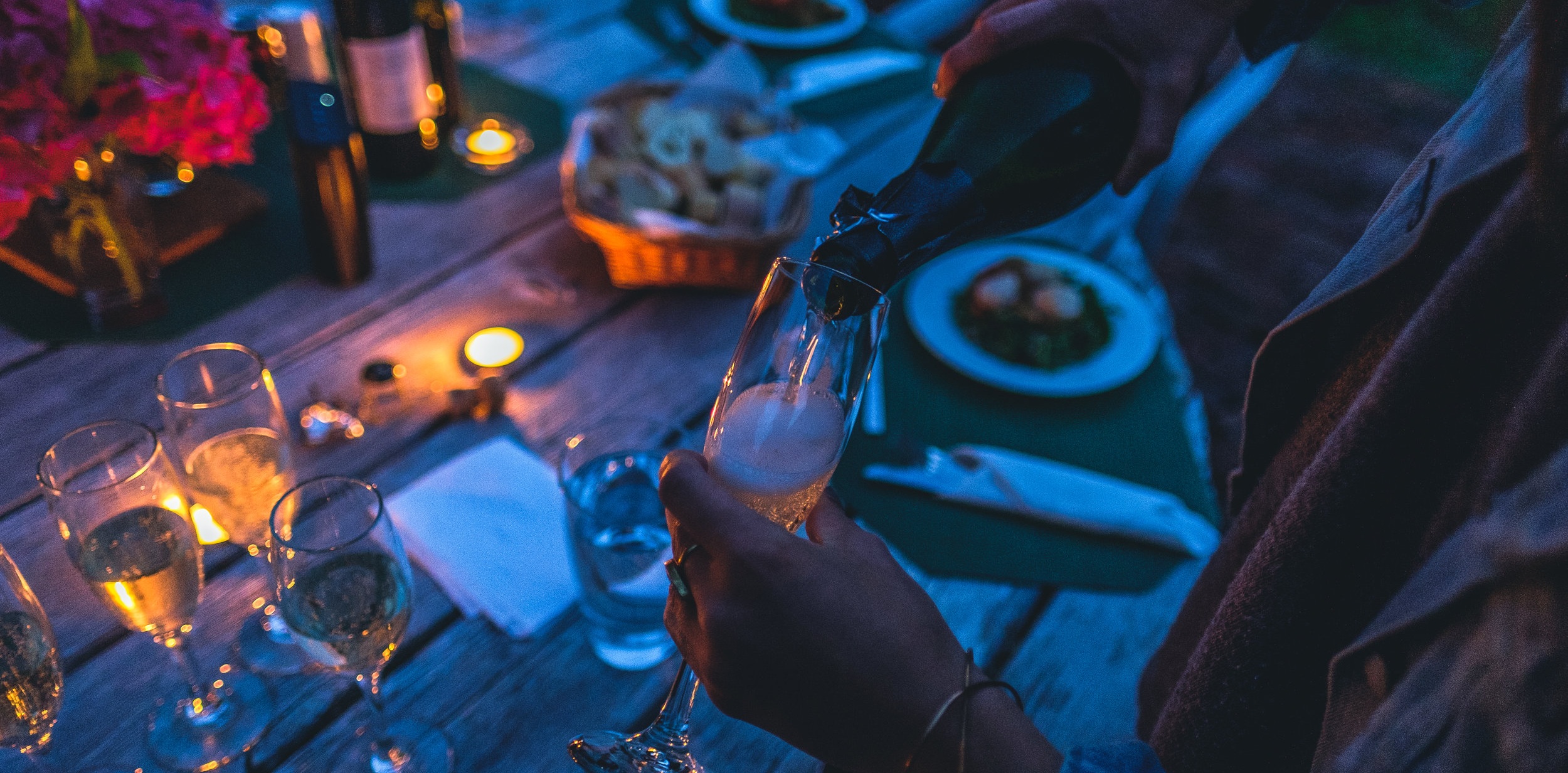 Guide to Méthode Traditionnelle
New Zealand's acclaimed sparkling wines are made by the classic technique called 'Méthode Traditionnelle', the french name for 'Traditional Method'.
This refers to the same age-old process by which Champagne is made, although in the region of Champagne, this method is exclusively called 'Méthode Champenoise'.
True Champagne blends three popular grapes, Chardonnay (which is white), Pinot Noir (red), and also Pinot Meunier (red) - all grown in the Champagne region. Modern day Méthode Traditionnelle blends, like ours in New Zealand, will use the same honoured varieties but the grapes are sourced locally, offering new and exciting regional flavours.
There are actually six ways by which commercial sparkling wines are produced, each resulting in a different carbonation level and a different style. Méthode Traditionnelle is arguably the most appreciated method in terms of quality, and it's also the most costly in terms of production due to the longer and more complex fermentation process involved.
At a very basic level, the process involves the normal fermentation to produce still wine, which is then blended and bottled with added sugar, sparking a secondary fermentation, with the internal pressure causing bubbles. The most important part of the traditional method is the glorious transformation that occurs inside the bottle itself - offering the perfect pop!
Then, wine gets more 'biscuity', nutty flavours from dead yeast cells.
Celebrated wine writer Michael Cooper believes,
"The range of New Zealand bubblies is not wide because most small wineries find its production too time-consuming and costly, but the standard of the top wines is superb."
Many wine-lovers have cottoned on to investing in the exceptional value of New Zealand sparkling wines for their celebratory occasions, instead of paying a premium for the exclusivity of French counterparts.
A brief history of Méthode Traditionnelle - the elixir of joy
Depending on which facet of winemaking you begin with, the origins of modern-day sparkling date back to the seventeenth century with a Benedictine monk called Dom Pierre Pérignon.
In those days, the bubbles in the wine (otherwise known as 'effervescence') was seen as a fault, mainly because bottles would explode during fermentation - not ideal. Perignon devoted his time to eliminating it from the wines of Champagne, but he soon noticed the fruitful value of keeping the bubbles.
The sparkling sensation caught on and was soon enjoyed by the elite influencers of the time. By the mid 1800s, Champagne had become a staple part of court life for the French royal family and their posh peers.
Between 1800 and 1850, Champagne production soared throughout the western world. French producers that are still going strong today, Möet et Chandon, Veuve Clicquot and Taittinger, invested in large-scale marketing campaigns to position Champagne as the ultimate drink to represent class and celebration.
Stylish celebrities such as Coco Chanel became famous advocates, and Winston Churchill sang its virtues from the rooftops during a war-time speech, 'Remember gentlemen, it's not just France we are fighting for, it's Champagne," he said.
In 2015, UNESCO heritage protection status was given to the region of Champagne in the north east of France. The European Union agreed to restrict the use of the term 'Méthode Champenoise' to be used only by sparking produced in Champagne (made using the traditional method).
So today, the term 'traditional method' (méthode traditionnelle) or the local equivalent is used for wines made outside Champagne. You may see 'Methode Cap Classique', 'Metodo Classico', or 'klassische flaschengärung' on international labels.
Méthode Traditionnelle bursts with flavour
Marlborough produces a significant portion of New Zealand's sparkling wine, where according to NZ Wine, 'the cool climate creates elegance and structure, with spritely natural acidity. Weightier, richer sparkling wines are produced in the Hawke's Bay and Gisborne'.
Our Tohu Rewa Blanc De Blancs 2014 is said to display lifted aromas of bright citrus fruit, crisp fresh apples and refined touches of brioche and toasted hazelnut. Extended lees aging in the bottle has resulted in a wine that displays a fine, persistent bead and rich, creamy mousse.
And our prized Tohu Rewa Rose 2015 displays fresh strawberry, hints of ripe stonefruit and underlying notes of brioche and toasted hazelnut. The fine persistent bead and creamy mousse lead to a rich and weighty palate balanced with focused acidity and biscuity complexity derived from yeast autolysis. Elegant integration of primary fruit flavours derived from Pinot Noir grapes lead this generous and rounded wine to a smooth, lively and lingering finish.
Both bottles are perfect for you next toast!
Storing Méthode Traditionnelle
Most sparkling wines are ready to drink at your next occasion (or today - any excuse works in our experience), but they can age gracefully for at least five years. Some vintage and premium wines will age beautifully from 10 to 30 years.
It's really up to you what you prefer in terms of flavour. Some adore the freshness and vitality of younger Méthode Traditionnelle, and others prefer the caramel and baked apple flavours that develop from a year or more of bottle ageing.
To maximize the shelf life of an unopened bottle, store in a cool, dark area, away from direct heat or sunlight. Try your best to keep the cool temperature steady.
In 2015, divers found 30 bottles of Champagne that pre-date the French Revolution on the Baltic seabed. It was made by Clicquot (now Veuve Clicquot) between 1782 and 1788 - and was still in good condition thanks to 'storage' in the cool depths of the ocean floor.
When you're planning to serve your prized bottle, remember that an unopened white wine including sparkling, should not be refrigerated until 1-2 days before drinking - and never chilled in a freezer.
Storing opened Méthode Traditionnelle
On average, a bottle of opened bubbly will last for anywhere from 3 to 5 days in the fridge before it spoils. The key is to put the stopper / lid back into the bottle as soon as possible, as the carbon dioxide bubbles will evaporate with the open air and heat.
You can of course use your discarded wine for cooking - it works just like you would use any dry white wine. You definitely don't have to use the expensive bottle either, these are better reserved for drinking of course.
It's also becoming popular to convert leftover wine to a vinegar. Simply pour it into a glass jar, cover with a cloth (cheesecloth is perfect) and store it in a dry, cool place for a few months. Just taste it every so often until you think it's turned to vinegar.
How to serve Méthode Traditionnelle
Sparkling is best served on it's own or with canapés. Served in a long, stemmed glass, it's the perfect aperitif to enhance the atmosphere of a special occasion.
The ideal temperature to drink it is a well-chilled 8-10°C (47-50°F). Any colder and experts believe it will numb your taste buds and flavours will be lost.
You should never chill a bottle of Champagne in the freezer or serve in pre-chilled glasses - the same goes for any Méthode Traditionnelle.
We recommend opening your bottle in front of an enthusiastic, thirsty crowd, open to a toast.
Nutritional information
Méthode Traditionnelle will vary in terms of nutritional breakdown, as the fermentation process differs from brand to brand, season to season, and bottle to bottle. But your average bottle of dry sparkling will have roughly 158 calories.
Sparkling wines have sugar added to create the secondary fermentation (it's what required to create the bubbles), but the majority of calories stem from the alcohol content itself, which is usually around 11 to 12.5%.
Mass-produced wines often from overseas are more likely to be additive-rich. We recommend always checking labels.
In New Zealand, strict food safety regulations control the use of wine protectants or preservatives and all wineries are audited on this annually.
At Tohu, the concept of caring deeply for our lands and their rich and fertile condition create wines of personality and purity. We therefore use as little additives as possible and adhere to the strictest of standards. Our vineyards and winery are certified by Sustainable Winegrowing New Zealand.
Pairing Méthode Traditionnelle with food
As mentioned, pairing your sparkling wine with bite sized canapés is the most common way to enjoy a quality, dry bubbly - other than on its own of course.

With a light texture that is not overly 'fruity' in the palate, your wine will be delicious with salmon blinis, prosciutto-wrapped asparagus, and dainty pastries. The nutty flavours also make it a great accompaniment to rich seafood dishes that hero oysters, crayfish or seaweed.
How does Méthode Traditionnelle compare to other white wines?
Sweet to dry to rich – New Zealand's white varietals cover a large spectrum. Here are some characteristics to expect from Aotearoa's most popular commercial varieties.
Pinot Gris: Mouth-filling, refreshing acidity and marked fruitiness

Sauvignon Blanc: Unique, vibrant fruit flavours

Chardonnay: Concentrated citrus, tropical fruit, rich fullness

Riesling: From bone dry to lush and sweet

Gewurztraminer: Breadth and weight, smooth texture, subtle acidity.