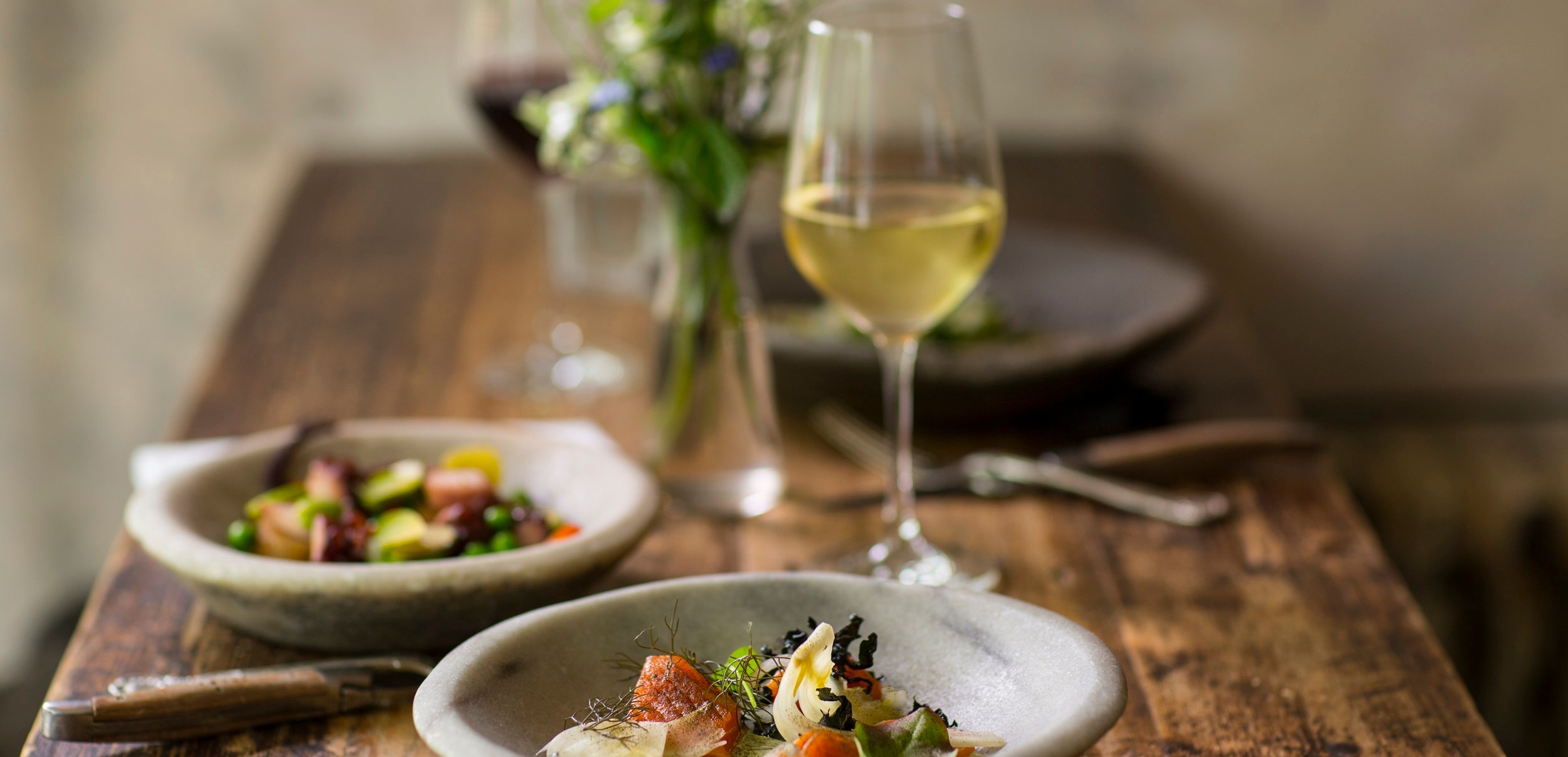 Thought to be a 'mutant clone' of the pinot noir variety, this grape can be considered one of nature's most delectable mistakes.
This popular drop is also known as Pinot Grigio - the Italian synonym. Italian Pinot Grigio is usually really dry with brilliant acidity and notes of almonds. French Pinot Gris is more oily, with faint honey notes from the process of botrytis.
New Zealand's top pinot gris are full-bodied and fleshy, dry and seductively smooth. The beautiful region of Marlborough at the top of the South Island accounts for the majority of production, but the varietal is grown successfully throughout New Zealand.
Our Tohu Nelson Pinot Gris (2018) tasting notes:
'Has on the palate flavours of crisp red apple and juicy ripe pear are integrated with smooth acidity, fine phenolics and a just a hint of sweetness leading to a fresh and richly textured finish'.
Pinot Gris flavour
The 'base' flavors in Pinot Gris are lime, lemon, pear, nectarine and apple. Depending on where the grapes are grown, this varietal can take on nuanced honey notes, floral aromas, and a almost a salt-style minerality.
In New Zealand, Pinot Gris explodes with rich, peachy, softly spi­cy ­flavours. Warmer climates in northern regions create ripe, full-bodied, oily styles, whilst the South Island produces big aromatics with great structure.
Barrel ageing, fermenting with natural yeasts, and 'lees stirring' are common practices by New Zealand winemakers to offer texture and complexity.
Storing Pinot Gris
Pinot Gris can be cellared for one to four years.
To maximise the shelf life of an unopened bottle of Pinot Gris (or any wine), store in a cool, dark area, away from direct heat or sunlight. Try your best to keep the temperature steady.
When you're planning to serve your prized bottle, remember that an unopened white wine should not be refrigerated until one to two days before drinking. This is not always possible of course with many whites from supermarkets or liquor stores storing wine in fridges these days.
Storing opened Pinot Gris
We recommend drinking your open Pinot Gris bottle within five to seven days.
Once you twist the cap (or more rarely pop the cork) your wine is exposed to oxygen and bacteria which begins to alter its colour, aromas and flavour. It's best to sit in the fridge, with the cap back on.
If you're concerned that it has turned, look at the wine in a clear glass for changes in colour and trust your sense of smell. If you detect an 'off' odour, flavour or appearance, it should be discarded.
You can of course use your discarded Pinot Gris for cooking as well, in fact it's perfect for most dishes. It goes particularly well in creamy seafood pasta sauces. You can even freeze it in an ice-cube tray and use later to offer some "bite" to any sauce.
How to serve Pinot Gris
Serve Pinot Gris chilled, at around seven degrees.
You'll want a glass shape with a narrower aperture than a traditionally wide-bodied red wine glass. When sipping from a slimmer vessel, the wine tends to stay away from the sides of the mouth which pick up the acidity. This shape also holds the aromas in the glass.
Nutritional information
Pinot Gris will vary in terms of nutritional breakdown, especially as the fermentation process differs from brand to brand, season to season, and bottle to bottle.
But experts suggest that an average glass of Pinot Gris will contain around 120 calories.
Because Pinot Gris is fermented from grapes some of the calories will be carbohydrates in the form of sugar, but the majority of calories stem from the alcohol content itself, which is usually around 11-14%.
Mass-produced wines often from overseas are more likely to be additive-rich. We recommend always checking labels.
In New Zealand, strict food safety regulations control the use of wine protectants or preservatives and all wineries are audited on this annually.
At Tohu, the concept of caring deeply for our lands and their rich and fertile condition create wines of personality and purity. We therefore use as little additives as possible and adhere to the strictest of standards. Our vineyards and winery are certified by Sustainable Winegrowing New Zealand.
Pairing Pinot Gris with food
This star varietal is certainly capable of accommodating a large array of food pairing combinations, or on its own is a mouth-watering palate cleanser, especially on a hot day.
Pinot Gris compliments most white meats and seafood, and is spectacular with dishes that include a zesty fruit element of lemons, oranges, apricots or peaches.
How does Pinot Gris compare to other white wines?
Sweet to dry to rich – New Zealand's white varietals cover a large spectrum.
Here are some characteristics to expect from Aotearoa's most popular commercial varieties.
Sauvignon Blanc: Unique, vibrant fruit flavours

Chardonnay: Concentrated citrus, tropical fruit, rich fullness

Riesling: From bone dry to lush and sweet

Gewurztraminer: Breadth and weight, smooth texture, subtle acidity

Sparkling: Nutty, balanced with fresh fruit.